Work at Home Special Report Sites Are a Scam. Beware.
Folks, I have had it. I've had it with seeing all these duplicate, and fake work at home "special report" sites populating the internet, ads and Google's search results and scamming people out of money. 
I've done what I could to expose these places and the programs they push. I've even made a YouTube video which currently occupies the #1 spot in Google's search result for that term and that gives this very same warning, but today, I decided to write this article to get another high position in Google for this search. Why?
Because whenever someone looks up "work at home special report" on Google, I want them to see my site before they get caught by the bad ones. I want people to know about what they're getting into and I want to put an end to these false sites, spreading false information and scamming people.
Because my website generally gets high rankings on Google, I figured writing this article and using that authority would really help people get caught less, and thus, here we are…
New to the work at home special report scam? Read this:
Many years ago, I found myself visiting certain "news" websites that all were pitching some sort of new money making system. They were saying that single moms were using it, households with little income were using it and basically these money making systems were allowing these people to make good money.
Furthermore, I was emailed a bunch of the same sites by friends and family members. 
But by the time I had seen these sites over and over, a few things started to stand out…
Why were all of these websites looking the same?

Why were they all showing the same comments?
Well that led me to investigate and what I found out made my hairs stand…
Basically there's an industry out there seeking to take your money. Here is how it works:
There are A LOT of horrendous, low quality, scam programs online that are trying to make sales. What they do is, they hire affiliates (or affiliates willingly do it) to make FAKE news websites like these: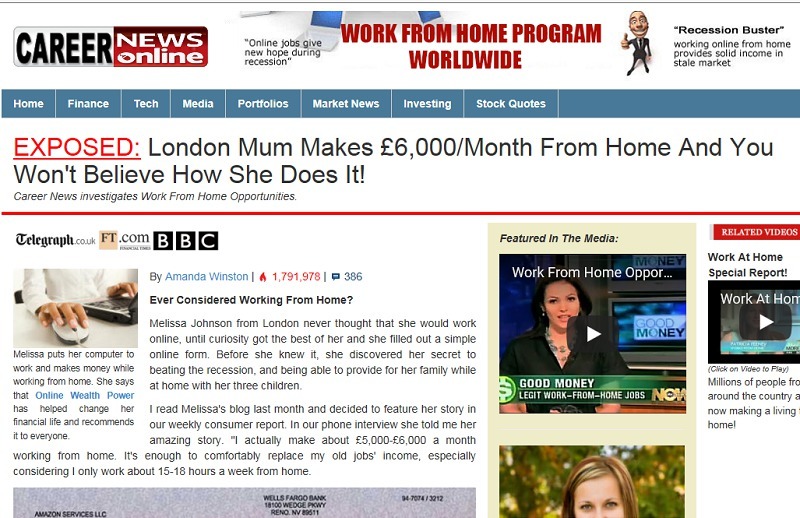 These sites are entirely made up, copied, and framed to look like legitimate news sites. They all are pitching these low quality programs on these sites. 
What happens then is that the people in charge of these fake news sites go around Google and they advertise them.
This is why you may stumble onto a website, read a blog and see an ad about "how a mom is making $50 an hour". You click it and bam, you're on the fake news site reading about some new, fake opportunity, clicking on it, and then heading over to the low quality program.
Here's the top ranking YouTube video I made on this subject:
There's no vetting going on, these pages promote anything…
Anything that makes them money, this is why they are NOT to be trusted. In perhaps 1 or even 2 circumstances, I've purchased a program these fake pages pitch that turned out to be legitimate, but I 100% assure you, this wasn't because the person in charge of the fake news page promoted it knowing that.
You see what happens is that the people who own these sites promote anything that pays them money, why? Well because it's an easy sell.
They don't care about the legitimacy of the program. 

They don't care if it's a scam.
All they care about is promoting that program, making the money and if something happens, oh well, let the customer deal with it. They also produce FAKE, duplicate comments on their pages to make it look like "real people" are commenting on it.
Furthermore, many of these programs these places promote rip you off you beyond belief. It can be for $10's or even $1,000's.
But having visited I'd say about 100 (this is not a typo) of these sites so far over the years, I've noticed those comment are always the same and you, the public, CANNOT comment there (huge red flag).
But getting back to a major point I've been wanting to make…
Even though I had 1 or 2 good experiences with purchasing products from these fake pages, the other times, and there have been MANY, I have had to buy extremely low quality, scam products and get into a refunding process. 
Mix that experience in with the other fake pages I've stumbled across over the years and this is how I figured out this scam industry.
Again, these places are not to be trusted. They are not reporting on anything, they are simply taking the same promotional text, putting it on their page and promoting whatever product will pay them most to do it. The report is fake, the testimonials are fake and just about everything you else you can put your finger on is fake too.
In the past, what I was doing was, I was reporting on the programs these news sites were pitching (which I still do), but it didn't really change much since the same fake news sites promoted something different and as long as I wasn't addressing those, I was continuously playing whack a mole basically.
Well with this article, no more playing whack a mole, now I'm just exposing the machine itself and how it's scamming you.
My final thoughts: 
Now that you also know about this, just beware, that's all I'm trying to relay here. Another thing worth noting is that a similar scam like this has been trying to squeeze through recently and it is the Amazon Cash Websites scam, which basically operates in the same manner. Stay away from those too.
Anyway, I hope that this article reaches the first spot of Google and helps people realize what took me a lot of time and money to realize. 
I could honestly go through the different and plethora of work at home special report websites I've found, but it's pointless, because a lot of these people just change their domain names over and over. I'd rather just use this article to tackle the subject through which they are aiming to take your money and stop that from happening, thanks for reading.