10 Ways to Make Great Money Online Without a Website.
Having a website isn't the only way to make money online, there's at least 5 great ways you can monetize on the internet without them. 
Each method I will show you are options I've personally tried and made some decent money through, and I will also provide a list of resources and info you should use if you decide to try one of these ways out.
Do note, that despite there being 10 ways to earn online without a website, doesn't mean it's easy, as these options all come with their own pros and cons too. Ideally, I would say that owning a website is something you should look into having if your intentions to run an online business are serious, but we'll get to that after I go over each option first…
1) YouTube videos.
I've personally made numerous YouTube videos and directly linked them to an affiliate promotion before. You also
have a nice set up these days to customize the videos you create to send people to where you want them to. 
Additionally, you can also set up donation buttons and memberships for your subscriber base on YouTube these days. 
Now this potential isn't easy to reach. YouTube despite being as big a it is, is still a competitive market. Just making a video and putting it up there isn't a guarantee that it'll go viral or you'll build up a subscriber base quickly. 
All of these things take time, like any other business to grow and while you don't need a page to create a thriving business on YouTube, you still need patience, the ability to at LEAST sound good on camera (if you don't want to show yourself) and you have to possess some sort of knowledge that people would find helpful.
Here's some things I've personally seen that are in demand and people have grown 100k+ subscriber channels through:
Political commentary on trending political events (response videos).

Videos sharing knowledge on common, hungry niche markets like fat loss.
If you want to start making YouTube videos, you have a number of options available, including uploading them through your phone, but many people like to record themselves and put them up that way. Another option you have if to use free programs like ShareX (which I personally use), that record your screen and microphone so you can share knowledge that way.
2) Facebook fan pages. 
Fan pages are also set ups where you don't need to own your own page, but it's also a thing that needs time to grow.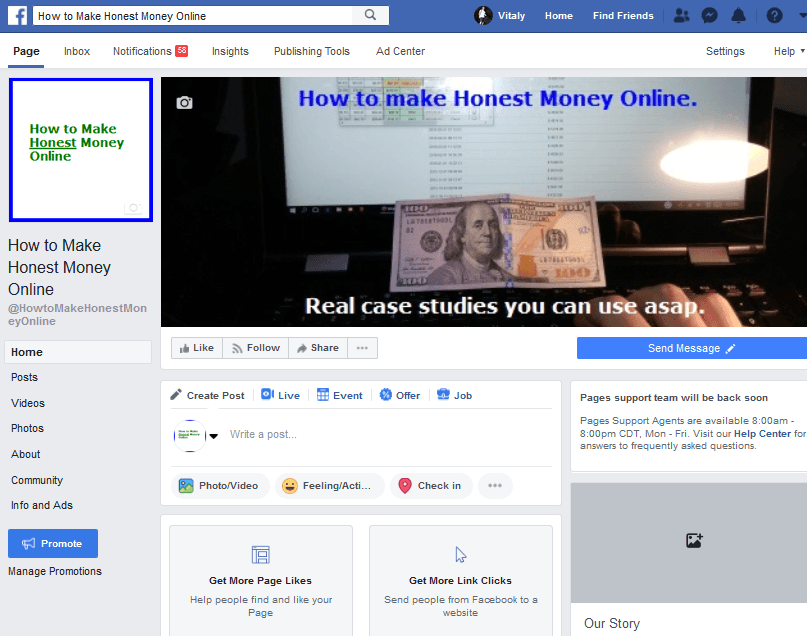 Considering you can accumulate a fan base through offering good content and even running FB ads to get people into the fan page, you can grow a good number of members.
Again, I have to bring up people doing political commentary as I find those people not only have thriving YouTube channels, but in addition set up fan pages that also thrive very well.
And just as well, if you posses knowledge in the same hungry niche markets I listed and linked to above (as well as other similar topics), you can truly grow a good number of subscribers. 
But what about making money through this option? Well there's a few, really lucrative things to consider:
A) You can do things such as offer consultations if the hungry niche market you picked out has some element of coaching involved. Things like dating advice would be a great example.
B) You can do Facebook Live events and attract your audience to an offer or affiliate offer you're promoting.
C) You can set up an email list and funnel the subscribers there and then monetize through emails you send them.
D) You can cross market with an existing YouTube channel for instance and offer free content, and on the YouTube videos, offer links to offers as well as the option to do YouTube live events where you can get donations.
Note: I've included a link to my own fan page if you're interested
3) Building up an email list. 
For this, you MAY briefly need a page, but the set up is so simple, you'll feel like you never made one.
I'm going to give you 2 options for this:
First, you can create simple squeeze pages like the one I made here (took under 20 minutes to set up) and collect an email list via marketing on YouTube, through Facebook, paid ads like Bing and other sources.
And second, there's also options to truly do this without a website and that's through programs like Clickfunnels which help you set up customized squeeze pages that are designed to just be made and connected to your autoresponder like Aweber, no personal page required, but on the back end, this is a $97 a month service you'd have to buy, something that only truly serious marketers would really need. 
Otherwise, if Clickfunnels isn't your thing, take the time to make a quick one page site with a squeeze page on it through free programs like this. 
An email list is an awesome tool to have, though not easy to monetize through. There's skills involved that you need to understand and have before you can monetize through this. Here's very important things I've listed that will help you avoid the 99% of failures that occur when people engage in list building.
4) Running paid ads to a squeeze/sales funnel.
Traffic can be attained through paid and free means. Most people should work through the latter, but through paid means, if you know what to do, you can get a lot of traffic to ANY source you wish, be it a squeeze page, a YouTube video, a FB fan page, an affiliate offer, whatever it is that ends up monetizing you on the back end.
One "only" needs to look at the following networks to see that there's many ways to get traffic: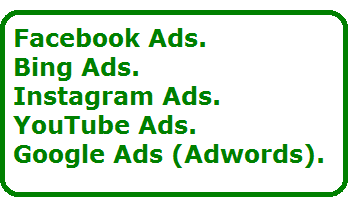 Now with the exception of Google Ads, you don't really need a page to use these networks, you can simply set up squeeze pages and funnel traffic there through the 3rd option above. 
A place like Google ads WOULD require you have a GREAT website that isn't doing affiliate marketing to be approved for ads. 
Now a quick note on direct linking to affiliate offers and how it can be used through these networks…
If you're going to directly link to an affiliate offer, ONLY do it through YouTube ads, where you run the ad, send it to a YouTube video which reviews whatever you're promoting before linking people to it. 
The reason why is because in general, direct linking to affiliate offers doesn't work (I've tested it and so have many, the evidence overwhelmingly says that direct linking through ads is NOT a good way to make money online).
Quick note: How to get training to succeed in options 1-4…
While I always tell people to join Wealthy Affiliate to learn one of the best ways to make money online, that in 99% of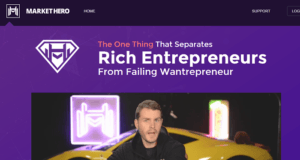 it's training deals with doing so through a website. 
Being that this article deals with earning without one, I will suggest another AWESOME program that specifically tackles ways to monetize online through those 4 methods I listed above:
The program is called Market Hero and it teaches all of the above methods I explained. Now I do want to make it clear that it also teaches making membership websites, but the traffic generation part (1-4) can be done without it and the training at Market Hero is so far the best I've seen on these options.   
5) Udemy/Skillshare.
Both these places provide compensation for people who set up online courses and pay you per student or in Skillshare's case, it's a redistributed compensation (see details). 
There's people who make some great money producing content and courses on these sites. I personally believe that if you have good content and services to offer, that you can, on the back end make more through a personal website, but the topic of today's article deals with doing this WITHOUT one, so we'll stick to that. Learn more about Udemy here (I've included a link to Skillshare above so you learn about that too).
5 other options & why you should consider getting a personal website…
There's a bunch of other methods to earn online without a website and here's at least 5 others:

There's many of you who will find that one or more of these 10 options will be MORE than you can handle to make something extra, but I still prefer you own a page.
I believe who look for ways to earn without one are those who think that they are somehow cutting corners and avoiding necessary work, when it's really the opposite. All of these options I listed on their own require expertise, a learning curve and ALL have their own chances of success and failure, it's not like they are "easy" because they don't require a website.
Being that I've made money online with and without a website, I can tell you that having your own page gives you more control, as with these other options, you are technically at the mercy of the program you're dealing with.
For example, your account could be shut down on YouTube or these other places. Despite you being the "owner" of the channel or using the services above, they are honestly not yours, in the end, the company that made the is in charge and they could get rid of you any day.
Now of course, having a website comes with it's own problems, but out of the other 10 options, you own it and building it up isn't as tough as you may think. Use a program like Wealthy Affiliate to teach you how to make it successful and I promise you'll change how you look at these other options (even though they are awesome on their own too).